It is the craziest thing to think about, knowing that in two weeks, Renegade Skyfarer will be officially released to the world. How is this possible? Where has the time gone? I don't know, but I can only hope y'all are as excited as I am!
Speaking of excited, have I shown the amazing character sketches that Twitter artist @ErithEl ? I love her work, and she and I actually met several years ago (Seven, I think. Wow.), bonded over Full Metal Alchemist, art, and and cosplay, and have been email pen pals ever since. Now she has a great web comic going, and occasionally takes commissions, when time permits.
Check out her work for everyone! Ben Dubray, Captain Slate Stohner, Jade Stohner, and Zak Monomi… They all look so good!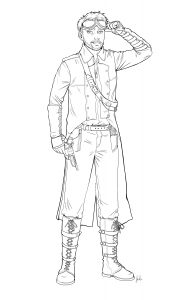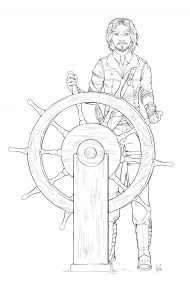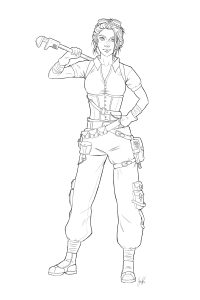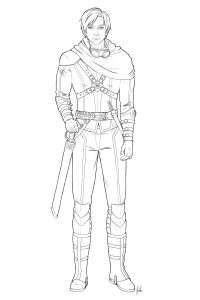 I just may need to print them out and use them as coloring pages for my kids. Or myself. I haven't decided yet.
And guess what? I'm just shy of 20 Kindle pre-orders! Mind boggling! I can't wait to share Ben and Jade's story, and have everyone in on the adventure. (And I can't wait to start hearing theories and ships and what everyone likes or dislikes about it all) I hope y'all will join us in the sky on July 1.
---
The Sapphire's airship crew saved Ben's life from a dragon, of all things.
When Ben wakes up, he has no memory. All he knows is what his new crew members tell him: the magical Barrier that protects their land is weakening. Unless they can repair it, all of Terrene will be destroyed.
Ben must decide whether to help the airship crew he's growing to love like family, or focus on regaining his lost memory, regardless of what dark secrets he starts to uncover there.
Welcome to Terrene–where dragons exist, the past haunts, and magic is no myth.
Welcome aboard the Sapphire.
Pre-order Renegade Skyfarer on Amazon now!