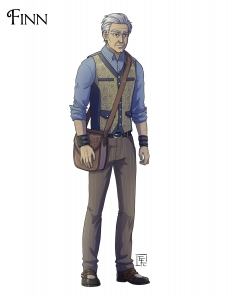 "Just because things could've been different doesn't mean they'd be better."
Finn has walked this entire journey with me from the very beginning. From the days of Betrayal by Blood, from the days before as Flint (and someday I promise to get around to writing that backstory! I just have to figure out how exactly that story will be best presented), he's been through so much. Times of laughter and love. Loss and sorrow and tears. Battle and bloodshed and the hard call that no one should ever be in situation to have to make. Days of peace and sunshine and tea on the back porch. He's seen it all. He's lived it all. Twice, if rumor is to be believed…
It sounds funny, I'm sure, but I'm glad he has had all the years with Raine. What a lovely callback to the days when Connor was a lad, running about and getting into things. Yes, there were bittersweet times, how can there not be, when loss leaves a gaping hole in one's heart? But over time that hole fills, heals, and while there will evermore be a scar to remember that time by, there are fresh memories and new loves to soothe that ache.
Raine to Finn is like summer showers to a drought-ridden desert. Life-giving, cooling, a welcome respite. Finn raised and protected his granddaughter with the love and fierceness of a man who's seen it all and wants the best life possible for his family. And she kept him young and on his toes by being the indomitable spirit that she is. I love their trust in each other, and his steady assurances to support her in whatever she decides to do with her life. Not family by blood, but family by choice.
Because he understands how fragile life is, and how quickly it passes away. And that's not a gift he will take for granted ever again.